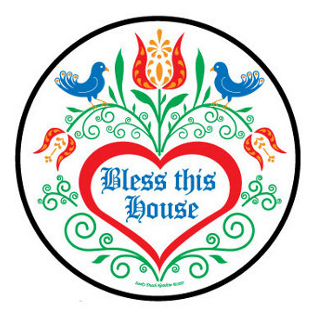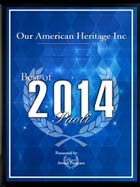 Now a Six Time Winner
2014
Best Of Chester County, PA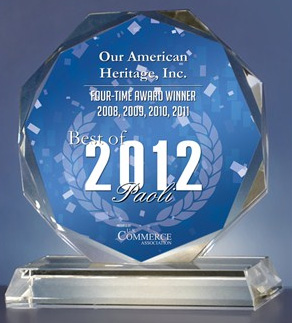 Now a Five Time Winner
2012
Best Of Chester County, PA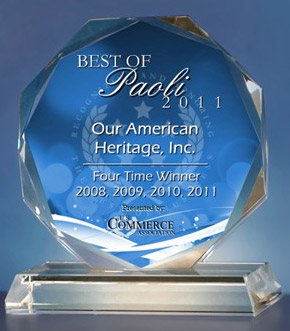 Four Time Award Winner
2011
Best of Chester County, PA
Main Line of Philadelphia, PA
Gifts, Home Decor,
Stoneware / Pottery
Best Pottery & Gifts - 2010
Chester, Delaware, Montgomery
Counties Pennsylvania
For the third consecutive year,
We are pleased to announce that
The Our American Heritage Shop
has been selected for 2010
Best of Paoli Retailers Award
Gift and Home Decor Shop category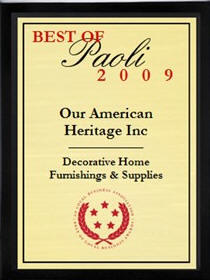 Best Of Paoli, Chester County, PA
Best Home Decor Store - 2009
Best Gift Shop - 2009
Best Of Paoli, Chester County, PA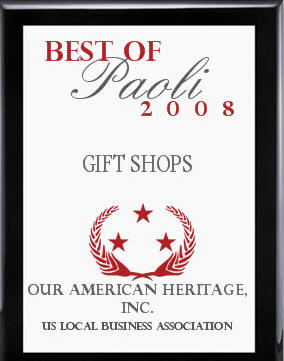 Best Gift Shop - 2008
Best Of Paoli, Chester County, PA
Eglomise Designs
College & University
Commemorative Gifts
Paperweights, Pictures,
Mirrors, Picture Frames,
Jewelry, Clocks
Can be Personalized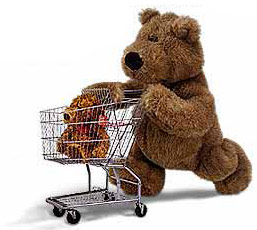 We Feature Quality Hand Crafted Products
This site is best viewed at present on a desktop or laptop computer
We are working on a Mobile Version of our site

Just Call Us Toll Free - 866-884-3299 Mon to Sat 10AM to 5PM Eastern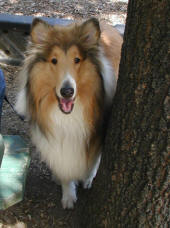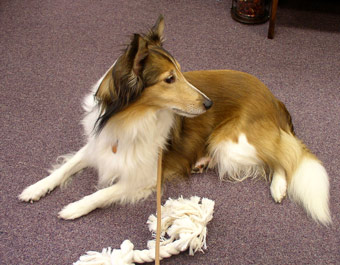 Meet Our Rescue Girls, Elizabeth & Ruby
On the left our Elizabeth, Rescued from Far Point Collie Rescue in Central PA.
That's her sister Ruby the Sheltie on the right Rescued from Northern Chesapeake Sheltie Rescue
May Products of the Month

Hand Crafted Amish Furniture in Today's Modern Colors

Something New ! Modern Fresh Colors

13 Paints and 5 Stains with Your choice of 3 Finish Styles

A Beautiful Fine Modern Finish or a Rubbed Edge with a

lightly worn "Vintage Look", third a Crackle Finish with a

white base coat underneath for an Antiqued Patina
Old Squire Plantation Rocker

27.5"wide x 47"high

Breezy Acres Rocking Chairs,

Loveseats, Porch Swings

Also Poly Rockers Available

Rustic Bent Hickory

Arm Chairs

34"h x 19"w x 19"d

Shown with "Ranger" Seat

& Bear Mountain Fabric

$ 362

Asking for Prayers

for Daniel Stoltzfus,

the Father of

Samuel Stoltzfus

It is the Stoltzfus Family

who makes our

fine Pine Furniture.

Daniel has been ill

for past few months

Thank You

The Our American Heritage

News Ticker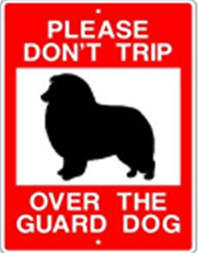 Send Woofs to Someone!
---
We Feature Amish Made
Furniture from Chester &
Lancaster County, Pennsylvania
For Your Home
Pottery & Stoneware...
Polish, French, Italian,
Russian, Irish,
Salt Glaze & Redware
Cherry or Walnut Bowls