Note: After 16 years we no longer have an open retail store. Today we operate only on the internet.
We can show you actual furniture samples at our warehouse, also paint & stain samples, fabrics, etc.
We can arrange local pickup for Pottery, Furniture & other goods. Our Warehouse is in Newtown Square, PA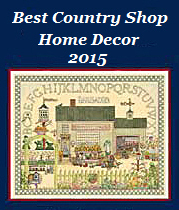 Best Of Chester County, PA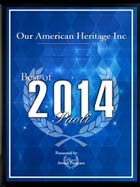 Now a Six Time Winner 2014
Best Of Chester County, PA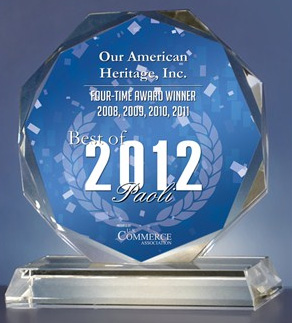 Now a Five Time Winner 2012
Best Of Chester County, PA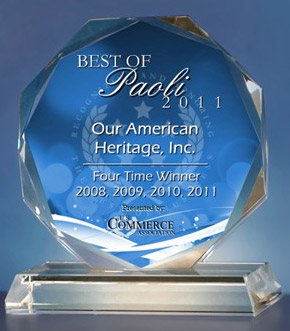 Four Time Award Winner 2011
Best of Chester County, PA
Main Line of Philadelphia, PA
Gifts, Home Decor,
Stoneware / Pottery

Best Pottery & Gifts - 2010
Chester, Delaware, Montgomery
Counties Pennsylvania
For the third consecutive year,
We are pleased to announce that
The Our American Heritage Shop
has been selected for 2010
Best of Paoli Retailers Award
Gift and Home Decor Shop category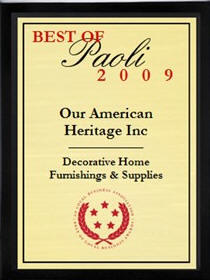 Best Of Paoli, Chester County, PA
Best Home Decor Store - 2009
Best Gift Shop - 2009
Best Of Paoli, Chester County, PA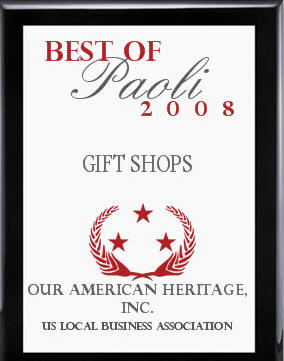 Best Gift Shop - 2008
Best Of Paoli, Chester County, PA
Garnier Christmas Table Linens for 2017

Trolley Coffee Table

Click on Picture for info - Available Today !

Meet Our New Rescue Boy Baily, & Our Rescue Girls Elizabeth & Ruby

In the center our Elizabeth, Rescued from Far Point Collie Rescue in Central PA. 8 Years Ago

That's her sister Ruby the Sheltie on the right Rescued from Northern Chesapeake Sheltie Rescue

Ruby passed away suddenly June 17, 2017, See was a very very special dog,

We had her special love for 8 years, she was 15+ years old

On the Far Left is our new love, Baily our new sheltie, only 4 months old

Classic Shaker Table in Elm Wood w/Michael's Cherry Stain

Includes Two 12"wide Leaves Eased Table Edges & Corners

Rounded Table Edges, Tapered Shaker Legs, Leaves Have Matching Skirting, Has Center Leg

Available Today ! 5 Ft Long x 42"W plus two 12"Leaves

Kitras Pumpkins - Round or Oval - 3 Sizes - Also available in Garden Walk Lites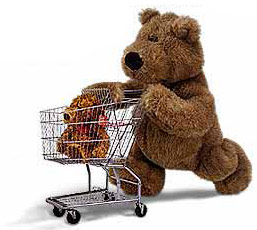 We Feature Quality Hand Crafted Products
This site is best viewed at present on a desktop or laptop computer
We are working on a Mobile Version of our site

Just Call Us Toll Free - 866-884-3299 Tue to Sat 10AM to 5PM Eastern
Leave a Message after Hours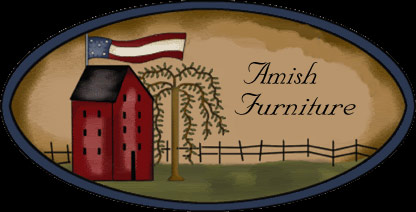 Furniture & Lamp Sale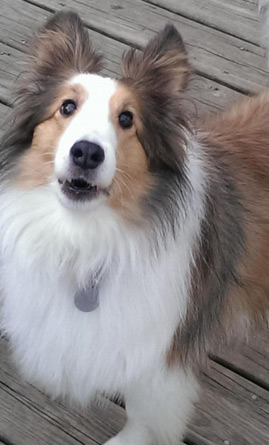 Adopt A New Best Friend
---
We Feature Amish Made
Furniture from Chester &
Lancaster County, Pennsylvania
For Your Home
Pottery & Stoneware...
Polish, French, Italian,
Russian, Irish,
Salt Glaze & Redware
Cherry or Walnut Bowls